Podcast: Play in new window | Download
Subscribe: Android | Google Podcasts
Sick. Sniffles. Sounding like a dude… We're on to some laughs, stories, politics and encouragement today.
Prior to the great Congressional Hostage Crisis, the Ga Adoption bill made its way back thru the halls of our state Capitol.  Center stage. Seems we aren't exempt from our own coup. The big bargaining tool of the session, kind of like DACA minus ILLEGAL children. It serves to remind all of us that people aren't always what they claim to be and human lives are till capital.
Why does this matter to you if you aren't adopting? Well, other than having a heart for kids outside of your sphere of influence, expediently providing loving homes to children is not only the right thing to do, but it also ensures we aren't paying for it on the back end. Meaning; unemployment, lack of education, medicaid, prison, suicide raises, opioid use, abortions and addictions of all sorts.
That's not to say every child who comes through foster care ends up a special needs case, but let's face it, being raised in a loving environment says a lot more to a person about a person and others, that helps ease the burdens of life that most of us will never experience, much less understand.
Having my own father give me his last name, I know first hand what it means to have someone claim you when the one who gave you life, disappears on the job. Children of Ga should have the same opportunity. Period.
The fact that the Governor of Ga is willing to play shenanigans with the lives of little people while purporting to champion education, is puzzling to me. There are measures in this bill that will support the welfare of children in our foster system that are apparently so egregious, the Speaker and Governor would use it to make a pathetic political point. What that is, remains to be seen. The Senate, while caving to the demands of mob rule at the Capitol over this bill, has worked diligently to find a way to allow for necessary provisions for these kids to have a clear path to a loving home.
We already stripped the bill of our First Amendment rights regarding Faith based adoption institutions to satisfy leadership and Democratic lust for all things entertainment, sports and economic development. But that's not going to appease the powers that be this go around. No, they want what they call a 'clean' bill. As if assisting kids minus the bureaucracy, is dirty.
YOUR call to action is to blow up the phone lines of the Governor's office 404.656.1776  to share in the outrage of such abhorrent measures sure to be taken by him with another big fat veto toward anything that ensures faith and liberty go hand in hand. Even for children.
Speaking of abuse of power, I want to address that little word: power. It's been demonized and misunderstood for centuries.. I want to break that down. In light of all the emails I receive from vets and active military concerning salvation, guilt, shame and loss of purpose, I want to offer a word of encouragement central to the idea of power. A bit of a monologue. It's my heart and I'm certain, inspired by the Author of liberty & justice.
My Sickie Fix..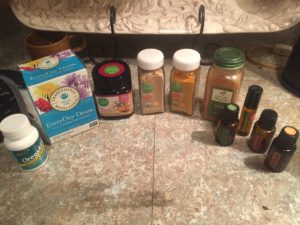 Many of you have asked me what I'm using this nasty cold/flue season. Well, here ya go.. I'm NOT a doctor and this is NOT medical advice. It's what I personally do as 'prescribed' by my wellness coach, MaryLou Harris. Doterra Oils are my essential oils of choice. Hot epsom salt baths with oils, chest rubs of Frankincense, Orange and Rosemary were my oils of choice for this beast. Along with hot tea that takes like mud, (ginger, cayenne, turmeric, honey and detox tea) but 'worked' nearly immediately.
This the first cold I have not taken cold medicine. I admit, first day of headache from hell, I popped an Advil. Trying to help my liver out here. I also indulged in an hour lymphatic massage and steam room and felt like complete HELL for 12 hours. The next morning, I was nearly as good as new. I've personally found, that if I will commit to laying in the bed, nearly still, for 24 hours at the onset of a cold, I will kick it 4x faster. Lots of water and some sun on my face. I also sleep with my oil diffuser near bed with same oils as listed above. Oh, and peppermint under my nose and on temples. HEALTHY!! 
You can reach MaryLou at 404.328.6435 and find her on Facebook at Mary Lou Harris – Awesome Natural Healing. 
xo,